Jay-Cast News #4 – Members Rolling In
In our 4th issue, we discuss how amazed we are with the members and moderators rolling in.
MEMBERS KEEP ON COMING
Last week, we've reached a new era in Jay-Cast as we set off  some giveaways for our members and the public to join in. They were/are big games, including Rocket League, Fallout 4, and DOOM. These games were thanks to Skalinger.
However, what should have shocked everyone on the growing Jay-Cast Staff Team is how fast we grew. We gained about over 1,000 members over the past week or so over at the Steam Group. That is absolutely insane, and I'm still amazed at how fast we grew recently.
I'd truly like to thank everyone on how we've grown so shockingly fast, considering that we're really picking up the pace to becoming the biggest and best community to connect gamers with game developers and content creators, and we haven't even reached our full potential! As of this newsletter releasing, we're at slightly over 1,400 members, and our website is over 40 users. What (and when) will we reach next?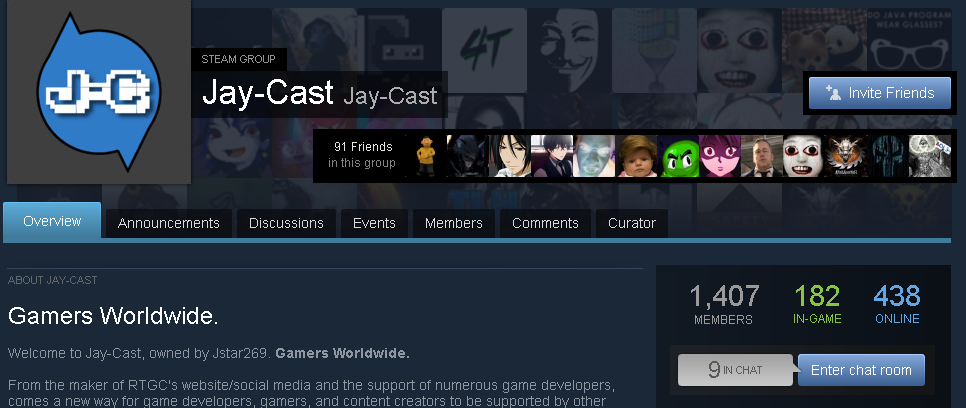 We're even starting to get a decently active chat room over at our Steam Group. It's mainly staff members at the moment but we've got a decently large staff team, so it's good to have them around and showing that they're going to be great people. It's good that we're experiencing a massive growth early on, and it's clearly showing that our progression towards greatness gets better. Simply put, thanks for everything we've done so far.
You can head to our Steam Group to getting us to 2,000 at http://steamcommunity.com/groups/jaycastgaming .
JAY'S GIVEAWAYS
Always get the latest giveaways at our official Giveaways page, as well as an area to type in our weekly point codes.
As of April 23rd, 2017:
We've got another over-the-top giveaway happening at 2,000 Steam Group members, so keep the growth coming!
Point Code of the Week: MEMBERGROWTH4 (25 Points, Expires Friday)
JAY'S RECAP
Next week, we'll be having another status update of what's on Jay-Cast's mind, along with another recap on stuff we've posted and our current giveaways.