Jay-Cast News #5 – 1-800-GROWTH
In today's issue of Jay-Cast News, we've got another glimpse of what to expect, another Thank You, as well as our weekly recap for posts and giveaways.
1,800 AND COUNTING
Our member growth has slowed down a bit recently, but it's still amazing that we've finished off our insane increases with a number as huge as 1,800 Steam Group members. With most of our first set of giveaways ending, we'd like to let you guys know of what we're going to be focusing on next. With our community this big now, I feel like it's time. Time for our next big giveaway. Oh, yes.
But, we still need some more members (who doesn't?). How about… 2,250? Once we reach that amount at our Steam Group, you'll want to feel DOOMed all over again. The first original set of our AAA game giveaways have successfully ended (1st Rocket League, Both Fallout 4s, and DOOM), but our 2nd Rocket League giveaway is still going. You can check it out below for a link to it, exclusively for our Jay-Cast Steam Group members.
We still plan to have some giveaways at around 2,000, but with how fast we've been growing lately (even if it's slowed down recently), I'd like for us to not go through all of our AAA games quickly. We plan to refill sometime in Mid-May, but for the time being, we will still have some decent giveaways. We don't (and won't) blow everything off into one sitting, after all. 😉
Also… sweet, 65 website members! We sure are growing fast whether it's on Steam or right here. Of course, thanks for all of our member increases so far. I plan to take a screenshot of our member count every time I notice it's grown a lot, and it surely has this time around. 400 members since our last newsletter!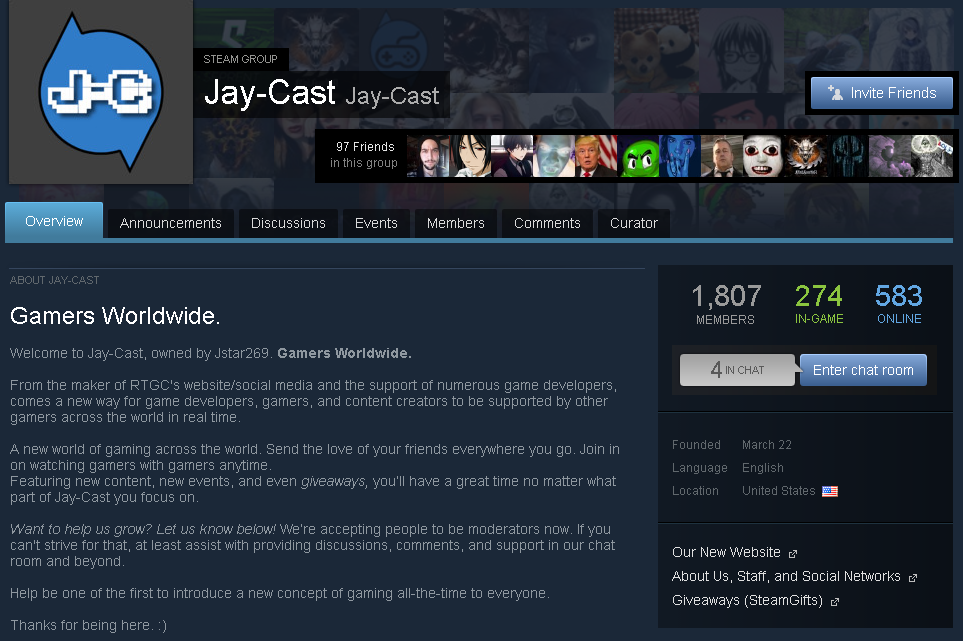 You can head to our Steam Group to getting us to bigger and better member count milestones over at http://steamcommunity.com/groups/jaycastgaming . Thanks in advance, if you haven't already joined! 😀
JAY'S GIVEAWAYS
Always get the latest giveaways at our official Giveaways page and here, as well as an area to type in our weekly point codes.
As of April 30th, 2017:
Rocket League (Ends May 6th)
Feel DOOMed  once we reach about 2,250 Steam Group members.
Point Code of the Week: 1800MEMBERS5 (Worth 25 Points, 50 Members Can Use It, Expires Friday.)
JAY'S RECAP
Jstar's Chronicles #21 – E3's On The Horizon

In this issue, Jstar (me) talked about what's really going to kick things off for E3 2017 this year. This includes what Nintendo, Sony, Microsoft, and other 3rd Parties have hinted at for the past few weeks and months. Whether it's the latest Call of Duty, Star Wars, or some unexpected game (Metroid?), this year is surely going to blow many socks of feet.
Next week, we've got a special surprise heading your way… I don't want to say what it is just yet, but be ready for something that will really catch your attention. Until then, thanks for getting our Steam Group beyond 1,800 members,